I have been writing poems since my teenage days. I first got in contact with this kind of literature when finding a collection of English poems (1) and a book of poems by the great American poet Robert Frost (1875-1963). Frost has remained (2). Many of his poems were a companien on many travels or trips though I was born when this gentleman had already been dead for nine years. But whenever I took a walk somewhere alone or in thought about my own music. The way he mingled aspects of country life and nature the the most basic aspects of life moved me in many a way. And it became a field of my own, because I agreed with him on the importance of a single snowflake in a distant wood on a snowy evening alone a road not taken instead of another.
Poetry, over the years, became a familiar way to say things differently. To give it a space or a room - as you may say as well. Any thime since then and whenever I've gone excited about some things which seem so hard to put in words, the first step taken is a poem that might be followed by a song afterwards - but it doesn't have to. Literature doesn't need music - nor das music need literature. But if both come together beautiful things are about to happen and magice, in some way, can arise. In case of the Los Angeles Poems we are talking just about literauture, not being put into music.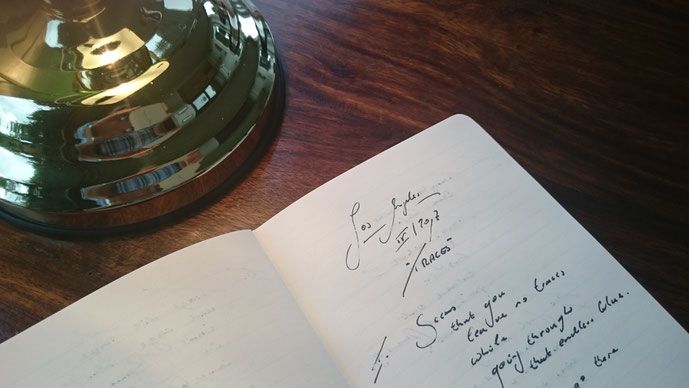 One surely might wonder about the need of writing poems while being traveling. I am only able to answer that question personally. I need to do so. Most of the travellers take their images and pictures with their cameras or cellphones. So do I. But I also do my writing because it offers this tiny space that transports more than a simple photograph in my phone could ever do. It takes me back to some moment on my way and dicovers emotions and feelings that occured just in that very moment I wrote these words on paper. That really is an enormous power. And just like a song takes you back all the ears to that situation you needed to write it, the same occurs when reading a poem. That is what both arts might have in common. That's what I feel when looking at it with my own eyes.
I brought along seventeen poems. I did not write all the time - I never do. But there are moments of sudden contemplation - that's when I wrote them. I am going to present them here to you for the first time. In case you would like to follow me on that trip through these spaces, you are dearly invited to do so now.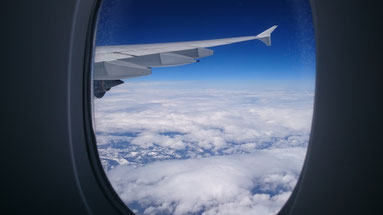 The first poem we are going to take a look at is called TRACES. When you're about to begin  your travelling you may wonder what traces you're about to leave. Sometimes you're afraid there might be none.  But while sitting inside that plane you just enjoy the wonderful endless blue. And you leave behind many a notion you thought that would be of greater importance anyhow before
I. TRACES
Seems
 that you leave no traces
while
going through
that endless blue.
I wanna go there
through
leaving no
traces
at all...!
Copyright by M. Zosel 2017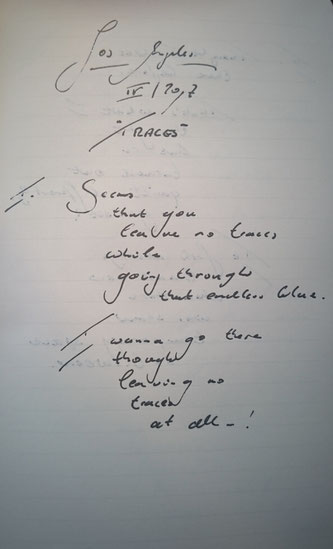 I'd been to Los Angeles a couple of years ago. It was in 2004. Thirteen years later I was going to return to receive an music award and be thrilled to the bone for that reason. Going there was totally different from being there for the first time. And the fact that it was thirteen years ago, a lucky number to me, made me smile all the way and all the time while being on my journey. 
II.
Thought I been
there before.
That's what I
thought
but it
turned out
quite differently
- you see?
It always feels
brandnew
when there
is some
temporary space
in between...
III.
I made it
all the way
to the coast
of the Pacific Ocean.
It took me
quite a while
but now
I have to smile.
For every journey
begins with
ther first step
and after that one
an unique adventure
begins...
A man has to
move on -
to remain
faithful
to his soul
and mind!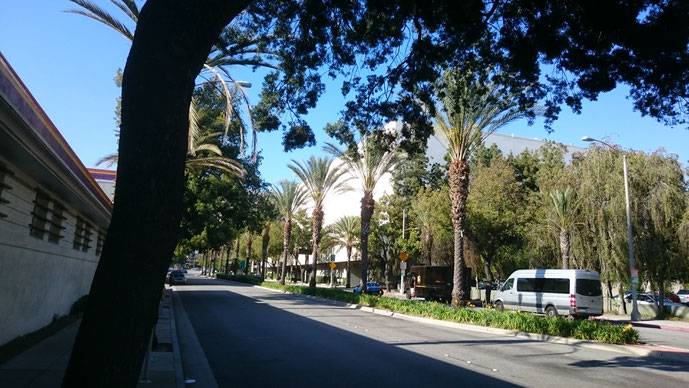 The gala night used to be on April, 20th at a hot location in Los Angeles. In the morning and noon I had the wish to escape the permanent smog and the roaring noises of that wonderful city, which did have an impact on me. So I chose to go on the Ventura Freeway north and got on another highway that too me all the way upt to the top of Mt. Wilson. At first I simply wanted to ride my car north, then almost by accident I found that special highway up the mountain range and met interesting people up there. Rangers that took care of a heavy transport truck up there. Bikers I talked to. They were going all the way up those 3000 feet by their own power, almost without stopping on their way.
It was a long way uphill on that mountain road. But there is magic the moment you arrive up there, breathing crystal clear mountain air in your lung and feeling like you're standing at the top of the world. High above a city that covers almost all the space you're able to see with your eyes.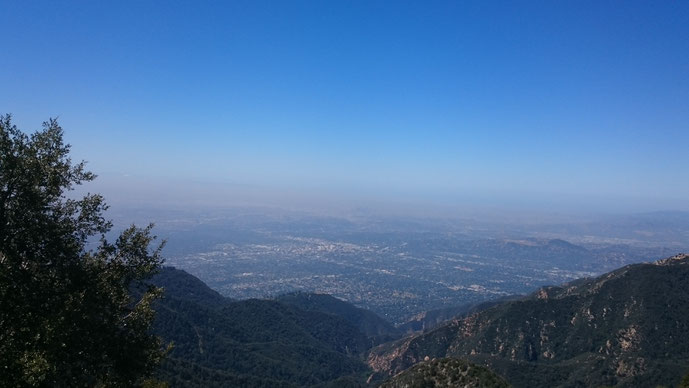 View from the top of Mt. Wilson to the western part of Los Angeles
---
There's little decision you really have when choosing which way to go - when you give it a closer look. You're taken this or that way. A bit of deciding remains to you - but not too much at all. 
I thought I knew a bit about that city, because I happened to be there 13 years ago. But every place I was taken seemed so different from the places I remembered. Funny, isn't it?
The moment you let go, you really begin to travel. Give it a chance to be the way it should be.
I did after a while and soon got the finest experience offered. I really started being there, not just going there - that's a big difference! 
I went all on my own and talked to people whenever I could. I was on the go and on the chat. Thankful for every picture emerging in front of my eyes.
IV.
Drove up
to Mt. Wilson
almost by accident.
Just saw
the sign
that said:
"Angeles Crest Highway"
and
I followed
'en route'...
I should be glad
I did so -
'cause of all the ways
I did go.
V.
Do you know
of summer's dream?
That might begin
with spring and  a need
to comfort all
the soul?
Of thunder
that went
to a distant shore.
As you longed
and grasped 
to look out
for more.
And dreams of summer
would stay
forever more...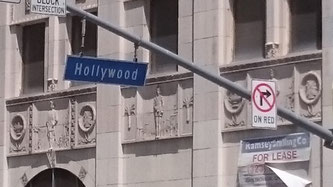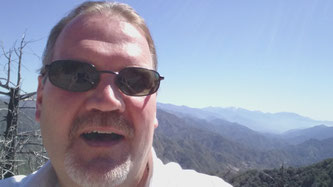 ---
VI.
It might be 
that I told you
Or I've forgotten
while I left.
For some notion
lingered
on my mind.
Easy to find
and
lost in
translation...
Sometimes, out of the blue, a love poem appears. Unexpectedly, but dear and welcome though nobody seems to be waiting at home for me in that matter. Somewhere someone might, who knows? Once again I reached out for the eternal traces up in the blue which surely is a reminder of poem number one. Love is the greatest mystery of all. The love I mean right here is true and honest love, which is a gift from heaven and cannot be compared to anything else.
VII.
I will be there,
believe me - I will.
And just
like the song
of the sea
seems eternal
- traces up in the blue
are.
And if you wish
on a star,
no matter
where you are,
that'll find me
- unspoken
but sure.
Such is
the mystery of 'love'.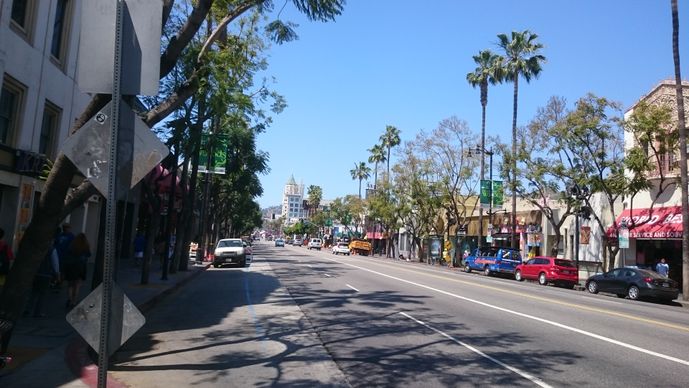 The sun on Hollywood Blvd.
---
VIII.
I am travelling 
on a dream.
No matter
how it seems
there's more to it
than might show us
at first sight.
It is the will
to realize
- there's more
to meet the eye
than meets the eye.
I'll be travelling 
on this dream
as long
as it may
guide me...!
IX.
Truth...
I never really
dared
saying that word
that
- being heard
often before -
seems to offer
so much more.
But looking for
thruth
is a life long 
journey.
an cannot be 
pronounced
in
just
one word...!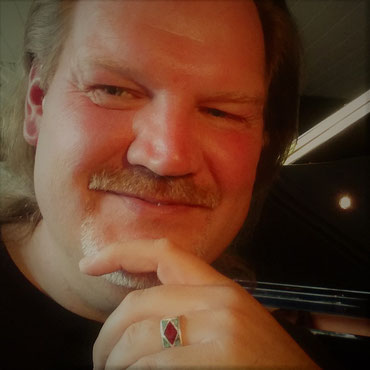 X.
Don't you
walk with me?
I was told
to be gentle,
handsome,
but sometimes wild inside.
Many a song
fed this soul
that is only
and only guided
by the GOOD LORD above...
A remarkable thought crossed my mind as I was walking on Hollywood Boulevard, looking at all the stars and names besides the steps that I was taking carefully. I felt really uncomfortabel to trample on the names of the poeple I knew with great respect regarding their hard work as an actor or a musician. I stopped before the name of Ingrid Bergmann, James Steward and John Denver.  They took the stars out of the sky and put them in two rows on both sides of the street, this boulervard of dreams, for everyone to see - and to step on. As much as I liked the thought of being here with a name as a part of this famous street, the same way I disliked the thought of having my name being trampled on by thousands of people each day.
I talked to some people about that - they did not wonder too much about it. And the wonderful Californian Sunlight in all its brightness gave them stars an unique glow.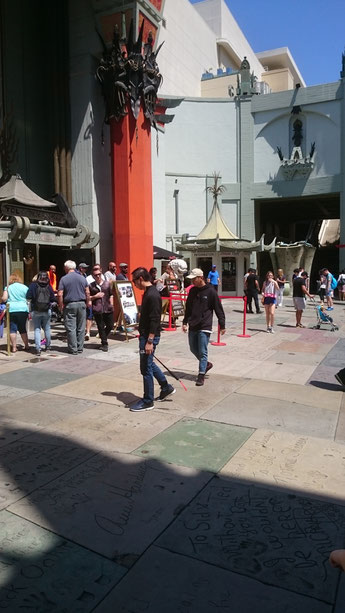 XI.
Strange
as it may be
I always liked
to be free
I've always
liked the
taste of the wind.
The taste of the rain
that comes with longing
unfulfilled.
And the  fragnance
of young soil 
on a warm 
summer's night.
Strange,
as it is
- it always felt right to me...!
On the Walk of Fame / Hollywood
---
I don't know if you ever heard about the famous Mulholland Drive on the Hollywood Hills. All my life I wanted to go on parts of that street which became very fampous for its illegal car races way back in the sixties and seventies at night and because of some thrilling movies which were taken up there. There still are also a lot of actors, writers and producers who live up there on that very beautyful and calm spot so close to the city bursting with traffic noise and life. I went there and it felt like coming home for some reason - I can't give you a precise reason for that. You have to go there to see the sunset in the west which sets a golden light all over the city as far as you can see. And in case you stay a little longer you can see a sea of dancing lights when it is getting dark and the lights of the city are dancing like stars on earth. That's where the magic comes in - and the dream of this very city shall live for all time.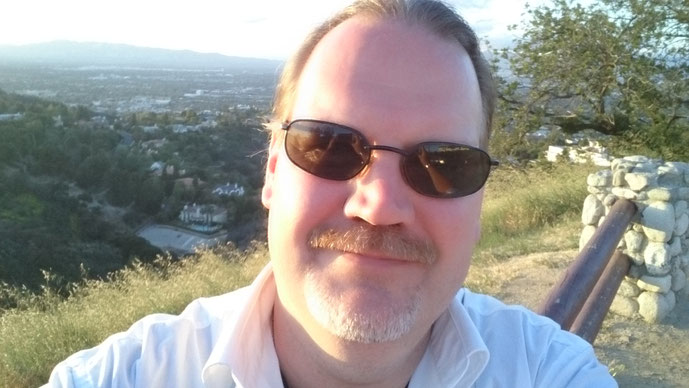 Markus on Mulholland Drive / Beverly Hills
---
Sudden lonelyness is a phenomenon that comes out of nowhere on a journey you do all by yourself. I do not suffer from that very often on my journeys. But it usually happens only once or twice in a travelling period. Then you need to reflect on the things coming up your mind.
I always like to go for a quiet place then. The hotel pool at evening time is perfect for moments like these. Life can be a little more intense for people who chose to go on a road not taken by many others. And dreamers have their own way. It's such a price to pay - and so much you do get by going on this road.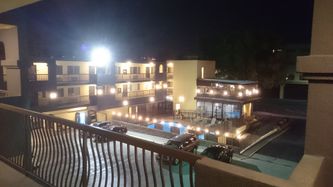 Temporary home in Pasadena
---
XII.
I am alone
at this hotel pool
as evening begins
and a slight breeze
so cool
relates to
the heat 
of the day.
Oh I might say
I enjoy
reflections
of the water's surface
unsteady traces
and victim
to this breeze...!
XIII.
Dreamers
are never
going to be alone.
They simply won't!
And if you don't beliebve me 
- don't!
I've seen 
my dream
dressed always alike,
to a sunny day
or a starry night's delight.
But I
won't get any wiser
and that
matches the fact
same as
all the other dreamers
around the globe.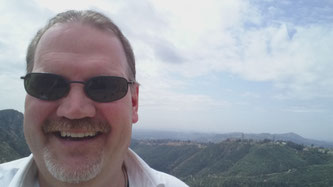 XIV.
No,
I don't feel
no pain
as I meet you
again,
Just like a promise
out of 
another life
- long ago.
I only wish
I could have stayed
and you
wouldn't have liked
to betray yourself
with someone else
beside you that time.
But don't care,
I don't feel no pain!
No pain at all...!
Up on Angel's Crest Highway
---
XV.
Hear that song?
Sing it along
and make it your own!
It is offered to you
if you know
what to do
the moment
it appears...
Feel the wind
on your face
and the sand
in your shoes.
Laugh out loudly
the 
you know
what to do
by instinct...!
A poem always seems like a little miracle to me. I doesn't need much and it comes out of nowhere and cleanses you soul in the most unknown spaces of your mind. It really does! And it doesn't have be be a big one. Just a hanful of words and simple lines. All of a sudden it everything seems to fit together - and it's right that way.
I shall be forever thankful for having that gift in my life - turning real life experience into pieces of fiction, art or artistic work to comprehend life much better. Though it might seem much more complicated moments before.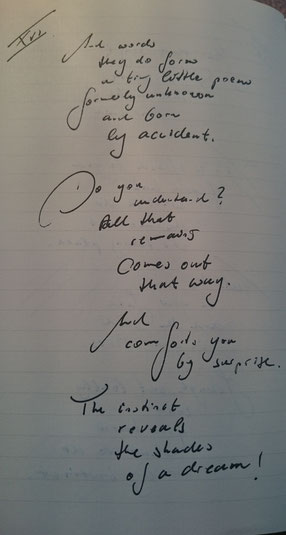 XIV.
And words
they do form
a little poem
formerly unknown
and born
by accident.
Do you 
understand?
All that
remains
comes out
that way,
And
comforts you
by surprise.
The instinct
reveals
the shades
of a dream!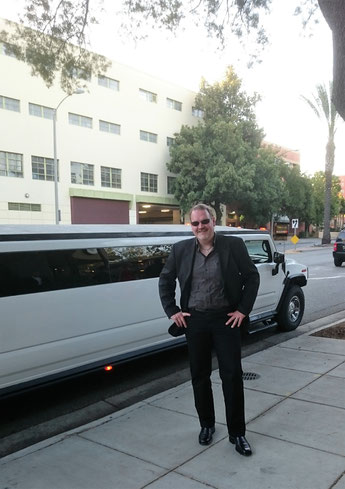 XVII.
They left it
to me
and I left it 
to them.
And it's up
to whoever
when we'll meet again.
For times
seems to fit
separate parts
together again...
Let me thank you now for being with me now.  I hope you enjoyed a little insight in my way of working in a literary or musical manner. I shall be pleased to have you as  a guest here again. Take care and call again. If you wish, leave a comment.  
I shall be very grateful to the wonderful people of the AKADEMIA, Hollywood, Los Angeles. The were the host who invited me to come to this unique and wonderful city. And I can tell you I enjoyed every single step I too in days around the 2017 Gala which was climax and pleasure of my journey to me and all in one. Words only come pouring out of you that way when you feel comfortable and well-guided on your trip. It has been a real pleasure to be a guest of those lovely people who give musicians the chance to be heard on a global scale.
The literary sources I mentioned were the following:
(1) Hayward, John (Ed.): The Penguin Book of English Verse. Penguin Group. London, 1988.
(2) Untermeyer, Louis (Ed.): Robert Frosts Poems. St.Martin's Paperbacks. New York, 2002.
(3) My own notes from my scetchbook I've begun in 2010.
And now - we're about to be finshed with the Los Angeles Poems and this article. GOD bless.
Markus Zosel
VII/2017