---
---
(The picture above shows Markus at Stonehenge/UK)
---
Updated:
am 26. Februar 2021
on February 26th, 2021 
---
---
---
Der Liedtext des Songs "Spectrum of Light" ist wieder als kostenloses pdf-Download verfügbar. Einfach selbst ausdrucken (DIN A4) und fertig.
Bei Interesse geht es über den Button direkt zu den Liedtexten (Song Sheets).
Find the lyrics of the song "Spectrum of Light" as lyric sheet pdf-download for free here:
---
Mein Podcast "A Songwriter's Cabin" ist in deutscher Sprache, auch wenn der Titel in Englisch ist. Viel Freude nun mit der neuen Folge 42...!
'A Songwriter's Cabin' is my podcast in German language. New episode 42 out now'!
---
---
Der Tag der Uraufführung der "Baunataler Messe" jährt sich heute zum 11. Mal... eine schöne Erinnerung an ein tolles Projekt mit vielen lieben Leuten. Ich darf sie alle auf diesem Wege wieder ganz herzlich Grüßen. Alles zu der Geschichte der Messe und eine Aufnahme unter dem angegebenen Link.
Datum der Uraufführung: 30. Januar 2010
Komponist/musikal. Leitung: Markus Zosel
Ausführende: Chor mehrKlang/Baunatal
Orgel: Thomas Erler
I wrote the "Mass for my Hometown" as a student in university and had to pleasure of the first night on January 30th, 2010.
Listen to the beautiful concert with the local choir "mehrKlang" on this splendid day.
---
Der neue Roman ist bisher schon auf über 350 Seiten angewachsen. Von Anfang an etwas größer angelegt, wird es mindestens noch 100 Seiten brauchen, die Geschichte zu einem Ende zu bringen, vielleicht noch mehr...
The new Markus Zosel novel has grown up to a number of 350 written pages. It'll take a lot more to bring the story to an end. We'll see and tell when new steps have been taken.
---
---
---
Es war wieder einmal an der Zeit. Der "Look" dieser Website bedurfte einer kleinen Auffrischung. Wir hoffen, Ihnen, den Besucher*innen gefällt es. Bleiben Sie und gewogen und viel Freude auf den Seiten in Markus Zosels musikalischer und literarischer Welt.
This website needed refreshment according to its outfit and presentation. We dearly hope that you'll like the new style and find yourself a cosy place in Markus Zosel's musical and literary world.
---
Kurze L e s u n g aus der Novelle "Nachtfischer"
von Markus Zosel (2020)
Gelesen vom Autor.
Musik: M. Zosel (2020)
Online bestellen:
Oder in allen Buchläden:
ISBN-13: 9783751985390
---
---
---
---
---
---

Das neue Buch ist fertig...!
210 Seiten, Hardcover-Ausgabe mit Schutzumschlag und Lesebändchen.
Für mich eine große Freude und ich kann es selbst kaum erwarten das Buch selbst in der Hand zu halten... :-) 
I just finished the new book "Nachtfischer" and it is published now!!!!
It has 210 pages and it is a hardcover publication.
There is so much joy and gladness and I just can't wait to hold it in my own hands for the first time... :-)
---
Die ersten Hardcover-Ausgaben sind jetzt offiziell erhältlich. Ich freue mich so sehr, sie jetzt auch im und über den offiziellen Buchhandel präsentieren zu können. Der Buchladen nebenan kann die Bücher jetzt bestellen... :-)
Es war eine Freude, die insgesamt über 500 Seiten erneut zu bearbeiten und neu herauszugeben.
Sie sind qualitativ sehr gut hergestellt. Der Text ist auf qualitativ und cremefarbenen 90-Gramm-Papier gedruckt und stabil im Rundrücken gebunden. Ein Lesebändchen ist jedem Buch mit hinzugefügt.
Viel Freude mit der 2. neu durchgesehenen und überarbeiteten Auflage der beiden Werke. 
---
Dear Markus Zosel,
Congratulations are in order on another great month on radio! We have been informed that your song 'I Turned Around' continued to demonstrate a strong hold on listeners worldwide in its latest month of heavy rotation. This is great news!
Please click here to view your latest spin report, which now reflects an impressive level of monthly spins: http://www.TheAkademia.com/spinreports/MarkusZosel-ITurnedAround12.html
Below are the most recent stations that have put your song 'I Turned Around' in heavy rotation:
KRSH Rush XR Stockholm, Sweden
www.rushxr.com/stockholm
KRSG Rush XR Goteborg, Sweden
www.rushxr.com/goteborg
KRSN Rush XR Oslo, Norway
www.rushxr.com/oslo
KRSF Rush XR Helsinki, Finland
www.rushxr.com/helsinki
KRSD Rush XR Copenhagen, Denmark
www.rushxr.com/copenhagen
NILE Radio Network Cairo, Egypt
www.nile-radio.com/cairo
NILE Radio Network Giza, Egypt
www.nile-radio.com/giza
NILE Radio Network Alexandria, Egypt
www.nile-radio.com/alexandria
NILE Radio Network Khartoum, Sudan
www.nile-radio.com/khartoum
NILE Radio Nairobi, Kenya
www.nile-radio.com/nairobi
Pump XR Hit Music Tel Aviv, Israel
www.pumpxr.com/telaviv
Pump XR Hit Music Jerusalem, Israel
www.pumpxr.com/jerusalem
Pump XR Hit Music Beirut, Lebanon
www.pumpxr.com/beirut
Pump XR Hit Music Ankara, Turkey
www.pumpxr.com/ankara
Pump XR Hit Music Izmir, Turkey
www.pumpxr.com/izmir
Trending Regions: Northern Europe, Northern Africa, Middle East
You can locate your song on the Folk / Singer-Songwriter playlists of these stations. In most cases, you'll want to tune in to the Folk / Singer-Songwriter genre to hear your song in rotation.
This is the great news. Now that 'I Turned Around' has achieved critical mass on radio and will continue to expand off its own burgeoning popularity, we can turn our attention to your next single. We look forward to building upon the success of your hit single 'I Turned Around' and to ushering in a year of unprecedented achievement!
---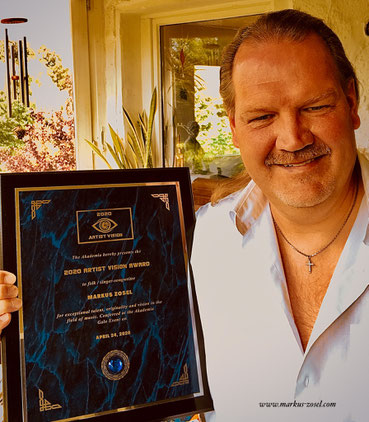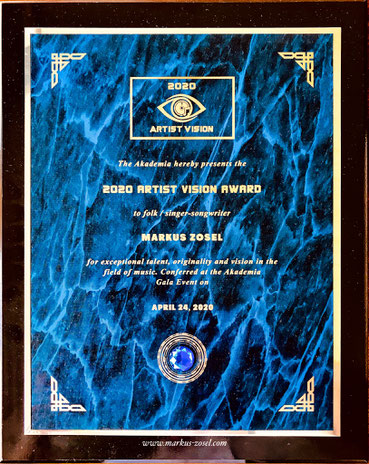 ---
Ich wurde gerade neulich von einem Interessierten Zeitgenossen gefragt, wie viele Bücher ich schon publiziert habe? Ich habe sie auf dem Tisch einfach mal ausgelegt und bin auf 15 gekommen...
I was asked about the number of book publications recently. So I put them all on a table and counted 15... :-)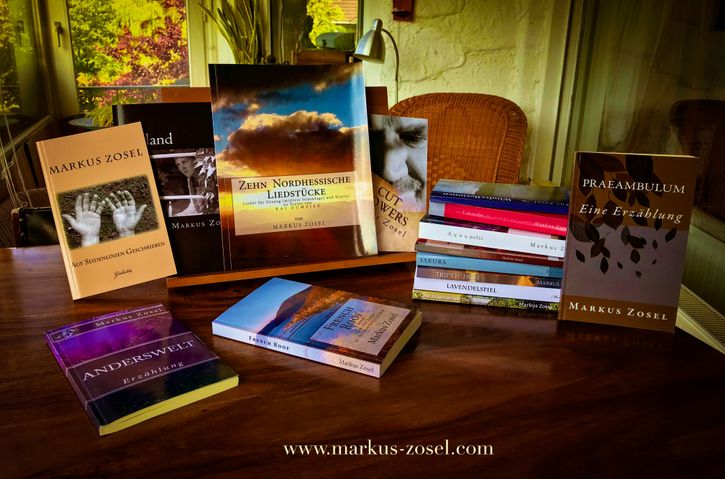 ---
Just received a  message by the Akademia from Los Angeles:
"Dear Markus Zosel,
Congratulations on being awarded the Akademia 2020 Artist Vision Award for exceptional talent, originality and vision. This is a once-in-a-lifetime honor bestowed by our organization. We are pleased to provide you with the link to your official Akademia 2020 Artist Vision Award certificate.
We thank you for making this year's gala event such a success! You'll be pleased to know that viewership this year was higher than ever before. We look forward to providing you with many important updates in the days ahead."
I would like to thank the officials and the team of the Akademia so much. It's an honour to receive this very rare award für this year. God Bless all of you fine people.
Markus Zosel.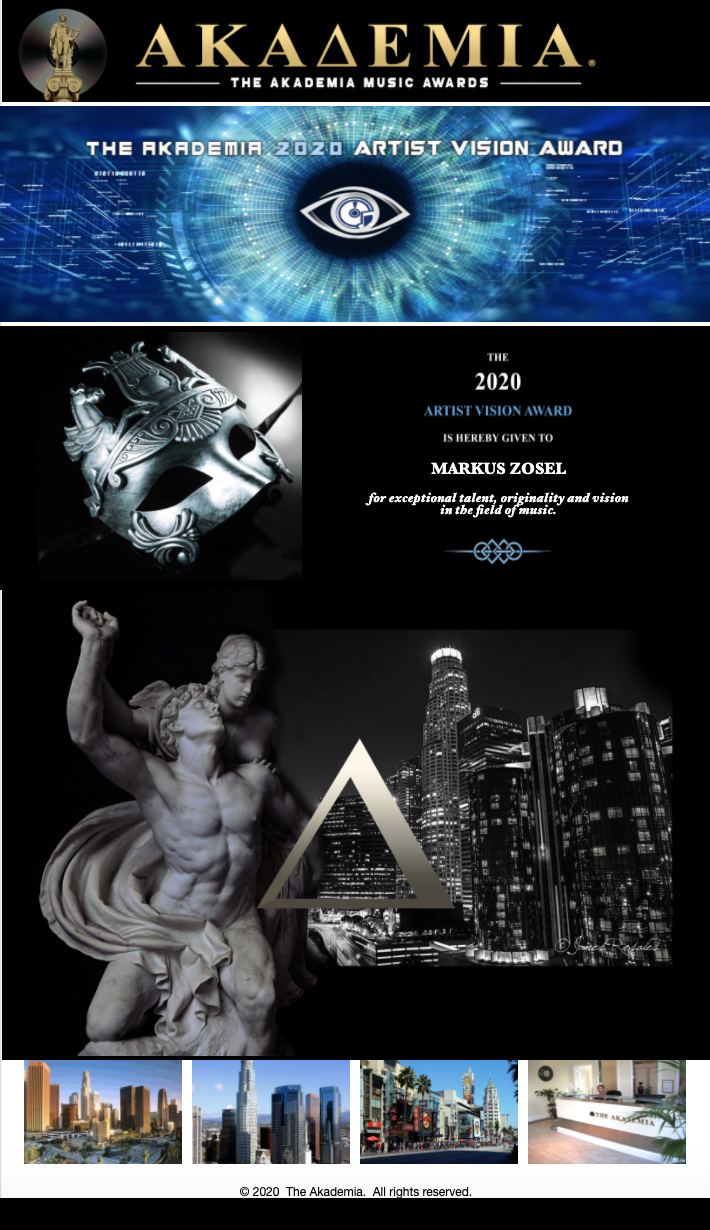 ---
 Mein lieber Freund Ralf Herbert hat mir eine Nachbesprechung des Konzerts in der Walburga Kirche zukommen lassen. Lieben Dank dafür, war sehr zu lesen und hat mich sehr gefreut. Im März 2020 sehen wir uns dort wieder, seid mit dabei...!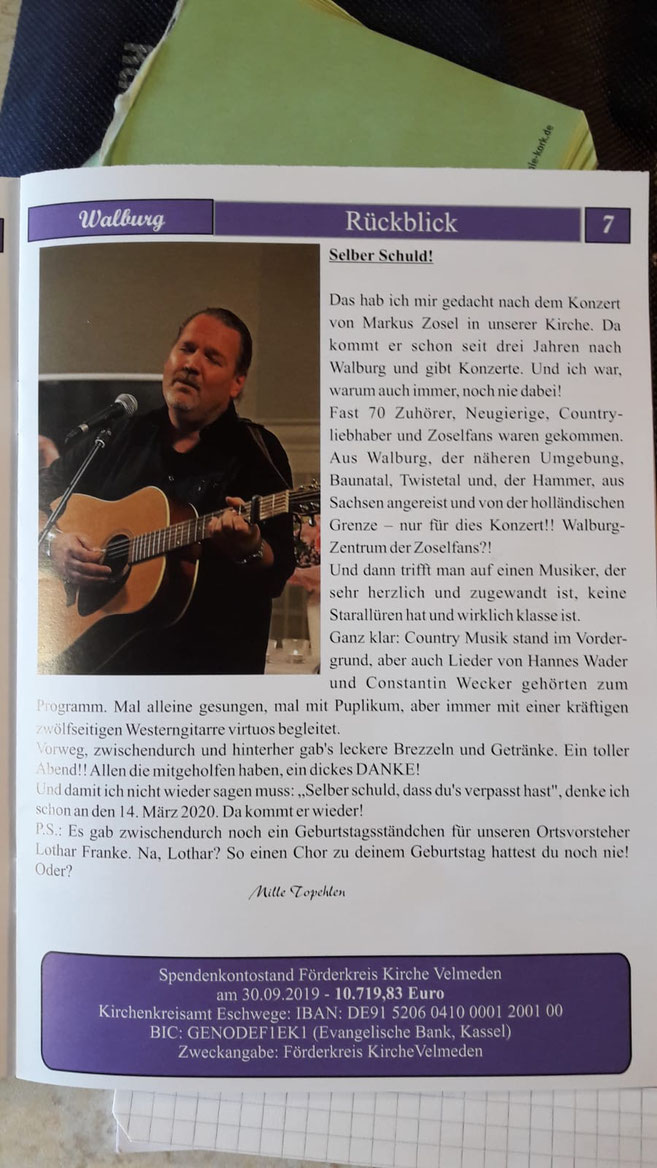 ---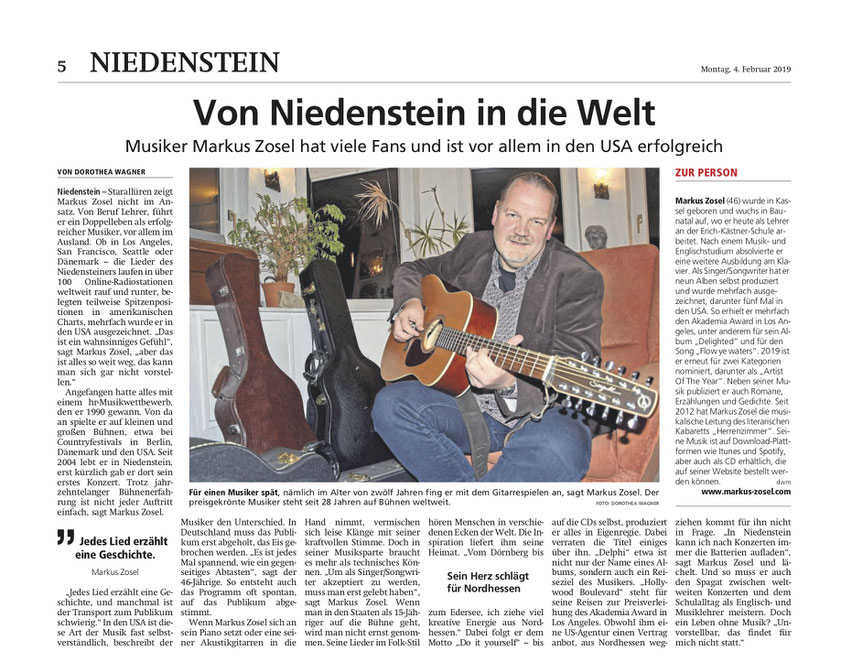 ---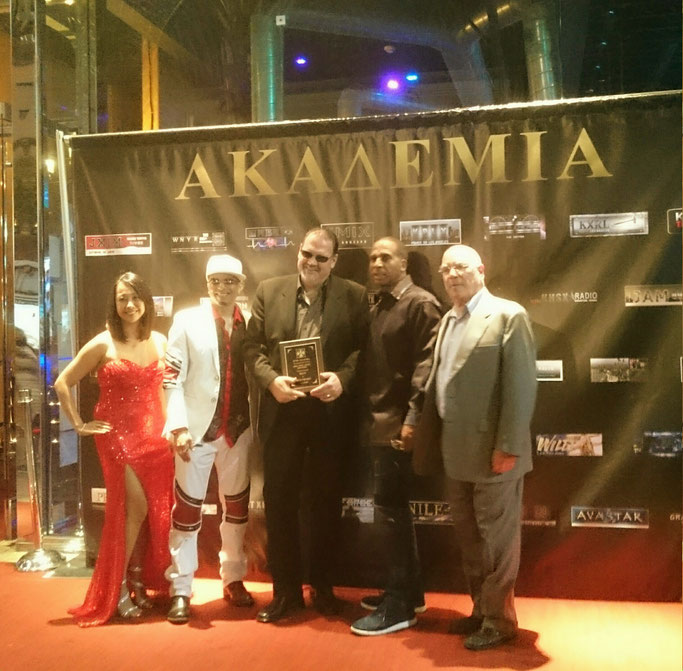 Markus and the AKADEMIA MUSIC AWARD OFFICIALS
on Thursday, April 20th 2017
in Pasadena, Los Angeles.
---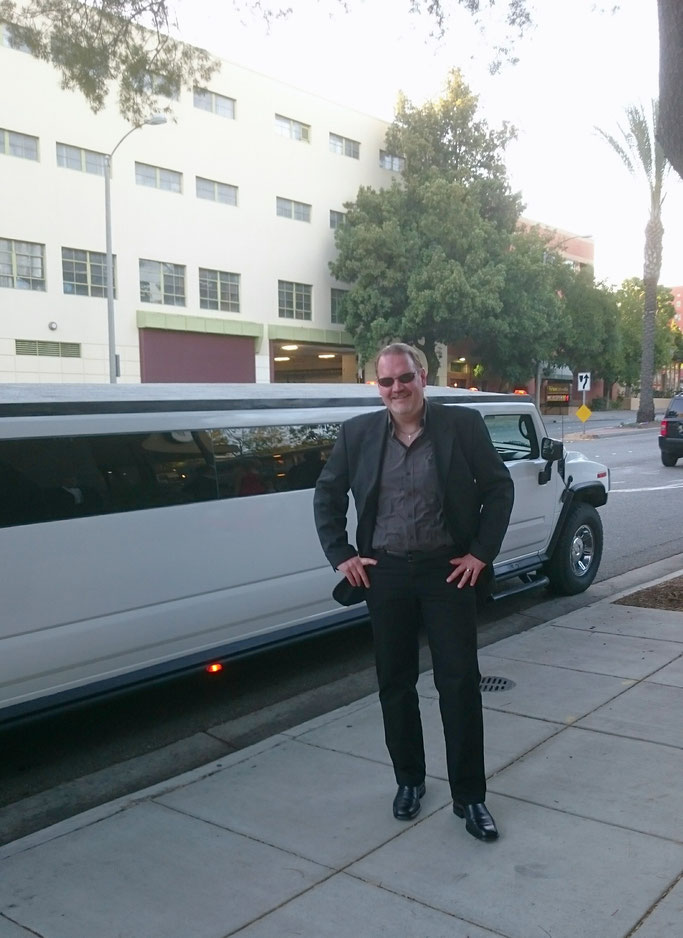 Going to the AKADEMIA AWARD GALA in Los Angeles by Hummer. Holy moly....
(the big version... :-) )
---